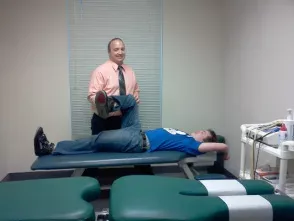 Dr. David Buchthal

My name is Dr. David Buchthal and I have been practicing chiropractic since graduating from Life Chiropractic University in 1997. I hold licenses to practice chiropractic in NY, NJ and Fl and have been certified as a strength and conditioning specialist through the National Strength and Conditioning Association from 2000 through 2002.
Before chiropractic school, I was a member of the United States Marine Corps Reserve and served in the Middle East during Operation Desert Storm.
I attended University of Tampa in 1990 with a degree in Physical Education and enjoy incorporating my active background into my practice.
My goal is to not only to try and make my patients feel healthier, but to have a positive impact on their life.
If you have any questions about our Pompano Beach chiropractor, or would like to learn more about chiropractic care at Pompano Beach Chiropractor, please call us at 954-786-0708 today!